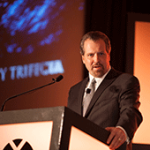 Michael D. Peters has been an independent information security consultant, executive, researcher, author, and catalyst with many years of information technology and business leadership experience. He has been referred to as the "Michelangelo of Security". Michael's current and previous executive positions include Chief Executive Officer, Chief Security Officer, Chief Information Security Officer and Chief Information Officer.
From a credential perspective, Michael holds an Executive Juris Doctor in Cyberspace Law; a certified MBA in IT Management, undergraduate degree in IT Security, CISSP, CRISC, CISM, SCPA, CCE, CMBA, SCSA and he is an ISSA Hall of Fame recipient.
In the realm of thought leadership, Michael is the author of "Securing the C Level", "Governance Documentation and Information Technology Security Policies Demystified", "The Security Trifecta™" and thousands of blogging, tweeting, social media networking and professional network syndication and industry feature publications. He has contributed significantly towards curriculum development as adjunct professor for graduate degree information security, advanced technology, cyberspace law, and privacy programs and toward industry standard professional certifications.
He is the serial entrepreneur and innovator behind The Policy Machine, Your Personal CXO™ information security network, The Security Trifecta™ philosophy, and the globally popular Holistic Operational Readiness Security Evaluation HORSE Project™.
He has been featured in many publications and broadcast media outlets as the "Go to Guy" for executive leadership, information security, cyberspace law, and governance. Michael's influence reaches deep into the international business community. As a highly accomplished senior IT corporate officer and recognized expert in IT operations, systems, data, and network security, risk and privacy, Michael has already proven his leadership capabilities to many Fortune 50, 100, and 500 companies within the Financial, Technology, Manufacturing, Health Care, Insurance, Defense, Education, Energy, and Transportation markets.
He is available for speaking, coaching, and consulting. Michael always welcomes the opportunity to connect and network with you through various professional and social media channels such as Linkedin.com, Facebook.com, Twitter.com, Technorati.com, LazarusAlliance.com, Google+, and of course, MichaelPeters.org.
Consultations
Do you already know what you want and would like to get your project locked in? Choose one of these options and the quantity of consulting time you want here:
Hourly rate for phone consultation work:
Daily rate for more in-depth engagements:
Weekly Rate for longer term in-depth engagements:

These rates do not include expenses for transportation, accommodations and incidentals which would be agreed upon in advance.
Notable Tidbits
Social and Professional Networking
Paper Trail
Publications and Presentations
• The New Social Security: When Social Media Meets Social Engineering, EITA Global, webinar & publication, copyright 2014
• Michael Peters (2013). The Security Trifecta: Governance Made Easy. Keynote at CISO Executive Summit, Minneapolis, Minnesota USA.
• The Security Trifecta – IT Security Governance Demystified, Pentest Magazine, publication, copyright 2012
• Michael Peters (2012). The Security Trifecta – Collaboration vs. Isolation. Keynote at Metro Louisville ISSA Information Security Conference, Louisville, Kentucky USA.
• Risky Business: IT Security Risk Management Demystified, Pentest Magazine, publication, copyright 2012
• What You Say Can and Will Be Used Against You in A …, Technorati, publication, copyright 2012
• Michael Peters (2012). The Security Trifecta – Information Security By the Numbers. Keynote at Middle East & North Africa Information Security Conference, MENA ISC 2012. Dead Sea, Jordan.
• 2012. Guest lecturer. Macon State College – School of Information Technology. The Security Trifecta – Information Security by the Numbers.
• The Security Trifecta, CrossView Connect, publication, copyright 2012.
• Consumer Reality Check – Lifting the Veil on PCI DSS, Technorati, publication, copyright 2012
• Failure to Guard Against Info Breach Leads to Firm's Bankruptcy, Technorati, publication, copyright 2012
• InfoSec Institute – CISO Interview Series – Michael Peters, 2012.
• Peters, Michael D. (2011). The Holistic Operational Readiness Security Evaluation: HORSE Project Series Volume 1: Governance Documentation and Information Technology Security Policies Demystified. Publication. Amazon Press.
• Failure to Communicate: Pending US Congressional Orwellian Bills Threaten the Internet, Technorati, publication, copyright 2011
• Are you Alert?, Technorati, publication, copyright 2011
• Uninsured – Underinsured Information Highway Motorists, Technorati, publication, copyright 2011
• Shot Down in Flames!, Technorati, publication, copyright 2011
• The Death of Privacy?, Technorati, publication, copyright 2011
• Would You Buy a Car Without Seat Belts, Technorati, publication, copyright 2011
• Michael Peters (2011). Technorati staff writer.
• Michael Peters (2011). Coding Standards for Security. Presentation at the CrossView V4 Las Vegas Nevada Conference.
• The PCI Challenge, CrossView Connect, publication, copyright 2011
• PCI DSS Compliance in the Cloud – A Primer on New Guidelines, CrossView Connect, publication, copyright 2011
• Weapons of Mass Disruption, CrossView Connect, publication, copyright 2011
• What's in a Name?, CrossView Connect, publication, copyright 2011
• Mobility Madness: Securely Extending Commerce to Mobile Users, CrossView Connect, publication, copyright 2011
• Your Personal CISO, Linkedin.com, Web Group, 2011
• How E-Commerce Apps Are Putting Your Site at Risk, E-Commerce Times, publication, copyright 2010
• Gearing Up for the Holidays – So Are Cyber-Criminals, CMS Article, Retail Info Systems News, copyright 2010
• Michael Peters (2010). Nothing Goofy About Security. Presentation at the CrossView Anaheim California Conference.
• 2010 ISACA CRISC Review Manual Working Group
• Peters, Michael D. (2010). Securing the "C" Level – Getting, Keeping or Reclaiming that Executive Title. Amazon Press.
• 2009 CIO Finance Summit; Guest Security Panelist
• 2009 FST 8 Summit; Guest Security Panelist
• ISSA Kentuckiana; Founding member and Past President
• ISSA Montgomery; Founding member and Past President
• 2008 CIO Finance Summit; Guest Security Panelist
• 2007 Certified MBA (CMBA) master listing of credentialed graduates.
• Board of Directors, 2002-2006, Louisville Metro Information Security Conference
• Holistic Operational Readiness Security Evaluation (HORSE); publication and wiki, copyright 2006
• Information Security forum moderator, 2006, Western Governors University Alumni
• Michael Peters (2006). Personal Privacy – Securing your identity in the wired world. Paper presented at the Independent Internal Auditors meeting
• WFPL (2006). Information Security – The Art of Deception. Interviewed with Kevin Mitnick by Rick Howlett on Public Radio Studio 619
• Michael Peters (2006). Personal Privacy – Securing your identity in the wired world. Paper presented at the Information Systems Security Association meeting
• Michael Peters (2006). Information Systems Security Association Introduction. Paper presented at the University of Louisville CIS Sophomore class spring and fall semester session
• Michael Peters (2006). Information Systems Security Association Introduction. Paper presented at the ITT Technical Institute CIS fall semester session
• Michael Peters (2005). Sarbanes-Oxley Primer. Paper presented at the Information Systems Security Association meeting
• Michael Peters (2005). Intrusion Prevention and Detection Systems. Paper presented at the Louisville Technical Institute Information Security fall semester session
• Michael Peters (2004). Passive Ethernet Tapping, Publication, Sun Microsystems
• Michael Peters (2004). Persistent IP Forwarding, Publication, Sun Microsystems
• Michael Peters (2004). Persistent IP Routing, Publication, Sun Microsystems
• Michael Peters (2004). Stealth Interface Ethernet, Publication, Sun Microsystems
• Michael Peters (2004). Authentication Security Alerting, Publication, Sun Microsystems
• Michael Peters (2004). Ethernet Network Interface Security, Publication, Sun Microsystems