I attended the 2012 Louisville Metro InfoSec Conference, now in it's 10th year, as keynote speaker. The conference is a function of the ISSA Kentuckiana Chapter currently led by Randall Frietzche. Once again, they are pushing the capacity of the venue space due to the increasing popularity of this important conference.
On a personal note, this past week has been such a high-note in my career as a security practitioner. I was honored by the ISSA organization much to my delight and inducted into the ISSA Hall of Fame. This is such a humbling award. A fellow inductee, George Proeller officiated and here I am trying to be calm and say a few words.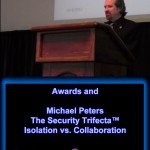 I am in the company of some pretty awesome information security leaders in the world. They are in entirety, Andy Briney, Scott Charney, Dave Cullinane, Mary Ann Davidson, Dorothy Denning, Donald Evans, Dan Farmer, Pamela Fusco, Simson Garfinkel, Susan Hansche, Steve Hunt, Michel Kabay, Sandra Lambert, Steven B.Lipner, Lynn McNulty, Richard Mosher, William Hugh Murray, Stephen Northcutt, Alan Paller, Donn Parker, Thomas Peltier, Fred Piper, George Proeller, Marcus Ranum, Ron Ross, Howard Schmidt, Bruce Schneier, Eugene Schultz, Sanford Sherizen, Eugene Spafford, Harold Tipton, William Tompkins, James Wade, Roy Wilkinson, and Ira Winkler.
I appreciate and tried to acknowledge my appreciation to the ISSA association but more specifically all of those mentors and supporters who helped me get here.
Now, on to the keynote!
My presentation was titled The Security Trifecta: Isolation vs. Collaboration and the presentation was divided up into three significant focal points. The first being a review of how the industry is doing and the implications which contained unfortunately a bit of bad news.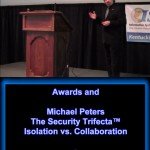 The second facet of my presentation discussed how The Security Trifecta philosophy provided a sustainable way forward to counteracting the negativity by creating sustainable, risk management based, intelligent strategies for information security programs in our own organizations.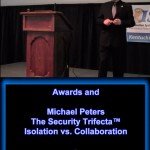 In the final segment, I shared advice on collaboration as a means to raising the bar for our organizational information security effectiveness. I stressed that no single security practitioner had all of the answers but that collectively, we did.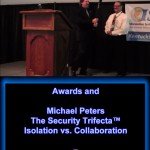 Here Randall is presenting me with a beautifully engraved Louisville Slugger bat. The conference was a great experience and it is amazing that this Kentucky ISSA chapter continues to grow and increase their influence within the industry. They continue to increase venue capacity due to persistently selling out of available tickets.
Thanks to everyone who engaged me in questions and dialog after my keynote. Those do tend to be the best discussions.