I have a new application in the Android Market today called ETA located here: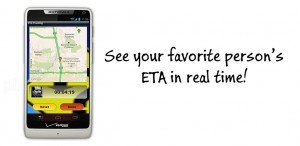 ETA is the awesome new way to track your favorite people.
ETA, otherwise known as Estimated Time of Arrival, is a clever application that answers the question other people ask you so frequently; where are you and how long will it be until you arrive? Our children ask us, spouses ask us, mothers ask us and even our friends ask us this question. With ETA, you never have to be bothered with that question again!
Manage your ETA connections easily through the intuitive application or invite others to be an ETA connection. The other person can select you on their phone and instantly see your location and a count-down clock in real time from their location.
We know it's not safe to use your phone while you are driving and with ETA, you can avoid doing it while giving your ETA connections important information at the same time.
Do you want to know where your ETA connections are in relation to your location? You can easily do that with ETA. Locate that lost or stolen smartphone with ETA. Verify that your ETA connection is where they are supposed to be with ETA discreetly.
ETA provides both physical and information security for its users.