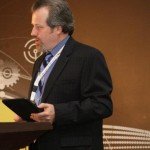 Several exceptional facets of MENA ISC 2012 became quite apparent to me during my attendance and participation in the Middle East North Africa Information Security Conference. First, what a truly impressive assembly of international security experts and delegates. People attending were engaged, inquisitive, and very collaborative which is a vital component in mastering the global information security challenge. Secondly, the MENA ISC 2012 team coordinated by Virtuport is second to none. The professionalism, coordination, and hospitality was simply outstanding and a pleasure to work with from my perspective as a keynote speaker. Finally, from a holistic perspective, hosting this important event in Jordan at the gorgeous Kempinski Hotel near so much rich history that has shaped the entire world, MENA ISC 2012 has continued this tradition as a shining example in the region. It was my honor and pleasure to be a part of this important conference.
Mr. Michael D. Peters
eJD, MBA, CISSP, CRISC, CMBA, CISM, CCE
Chief Information Security Officer CISO at CrossView Inc.