I had the pleasure of being invited to Macon State College for an information security presentation to a great group of students and professors. We had a lively discussion about the three facets of The Security Trifecta: Governance, Technology, and Vigilance. One of the things I enjoy most are the creative minds that represent the future of information security. We are going to be in good hands!
Here, I'm lecturing on the seven distinctive segments of a corporate information technology and security governance documentation program that should be present within every organization. They are asset identification and classification, asset protection, asset management, acceptable use, vulnerability assessment and management, threat assessment and monitoring , and finally, security awareness.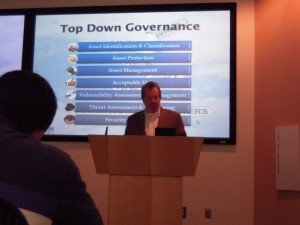 Here, William C. Ochs II, PhD. (ABD), M.B.A. helped conduct a give-away of books to two students. I first met Bill at the Metro-Atlanta ISSA chapter meetings where he is a big supporter of the ISSA through the Macon State College extension.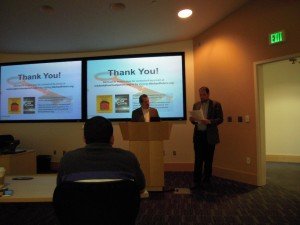 I definitely enjoyed my visit and appreciated the invitation by the faculty of this world-class facility.
Thank you!